[ad_1]

A movie about those who make animation starts in Japan on May 20
---
Manga creator and artist circle clap (card captor sakuraAnd XXXHOLiCDraw a visual collaboration for the live-action movie adaptation of Mizuki Tsujimura's Anime supremacy! (Hacken anime!) a novel. visual depictions clapManga designs of real-life actors and cartoon characters in the story.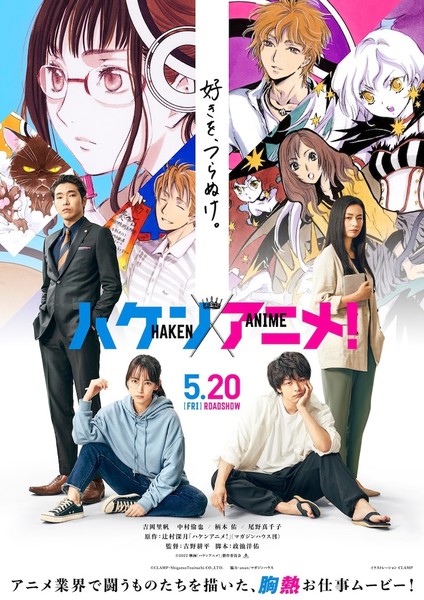 manga creator Isako Kobunochi (chocolateAnd Carol & Tuesday), who designs the characters for the anime "Soundback: Sō no Ishi" that will appear in the film, also made a visual representation of the heroine Hitomi Saito (played by Ryo Yoshioka) in his style.
The bonus of the first week is a postcard that uses the illustration of a kobunouchi, and the bonus of the second week is a postcard that uses the clapillustration. Rewards will be limited to the first 200,000 theatergoers.
home magazine Publication of the novel in Japan with illustrations by clap in August 2014.
Vertical released the novel in English in October 2017. Kodansha USA Publishing Describes the story:
Japanese Animation – World-acclaimed, family-friendly theatrical features are the exception rather than the rule for a TV-oriented industry that has been pushed into late-night slots in the age of dispersed audiences. When only three out of fifty titles make a profit, topping the charts is hardly an overly ambitious goal.
However, as three women, a producer, director, and animator, live in a company famous for its killer schedules, frustrating compromises, and corrupt men, moments of upsurge against all odds – and how – emerge. More than just a window into an entertaining place, here's a great poem for action.
The film will open on May 20.
source: Iga Natalie
---